A Californian woman accidentally ran over and killed a man who was allegedly trying to steal her catalytic converter, according to officials.
Unfortunately, thefts of catalytic converters have spiked by a staggering 1,200 percent in recent years because of the precious and sought-after metals they are made with, according to the National Insurance Crime Bureau.
And now, an alleged thief attempting to obtain the metals has lost his life.
The Los Angeles Sheriff's Department said that the unidentified woman who accidentally ran over and killed the man was sleeping inside her Ford Excursion in the car park of a Palmdale shopping centre.
This is when a group of four alleged thieves pulled up next to the woman in her SUV just before 6:00pm local time on Tuesday (14 February).
Four suspects allegedly pulled up alongside the SUV.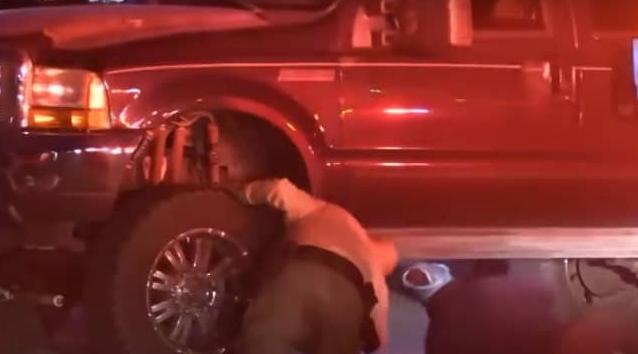 In the pulled-up car were two men and two women, with one man believed to have hopped out of the vehicle.
The unnamed man went underneath the woman's SUV and began sawing off the catalytic converter, according to authorities.
The press release added: "The victim woke up from the sound, turned the car on, put the vehicle in reverse, and felt a bump like she ran something over."
The woman then immediately stopped her car and called 911, with the alleged thief lying beneath the car.
When officers arrived at the car park located on the 39000 block of 10th Street West, Palmdale, they found the Ford partially backed out of a parking space with the man still underneath it.
Meanwhile, the alleged thieves' car was still parked right next to the big SUV.
The three suspects (two women and one man) were quickly detained on the scene, while the run-over man was rushed to Antelope Valley Hospital, where he was pronounced dead.
Catalytic converter theft has become a lot more common in the US in recent years.
This story comes just a week after one of the most noticeable vehicles in the US was targeted by catalytic converter thieves.
Yes, the iconic Oscar Mayer Wienermobile was hit by thieves on 9 February while it was sitting stationary in the car park of Sonesta Suites on Paradise Road in Las Vegas.
When the crew couldn't start the wiener on 10 February, they knew something was up, and mechanics eventually had to install a temporary catalytic converter.
The theft of catalytic converters has become a real problem in the US in recent years, with law enforcement now giving tips to drivers.
To protect your catalytic converter, they say that you should consider installing a protective cover, parking indoors and park in a well-lit area.