"Grease" headliners Olivia Newton-John and co-star John Travolta had a strong connection while working on the film. Fans desperately wanted them to date, but it was not that easy. In a tribute to Newton-John after her death, Travolta revealed that he was hers from the moment they met.
Newton-John passed away on August 8, 2022, and while there have been millions of tributes to the star pouring in, the one that has touched people the most came from her "Grease" love interest, John Travolta. The star took to his Instagram page to share his feelings about his longtime friend's passing.
Travolta posted a photo of Newton-John in her youth alongside a touching tribute. He mentioned that he loved Newton-John, that she made an incredible impact on everyone, and that they would be together again. He then said that he would be hers forever.
In the post, Travolta pulled on fans' heart strings by saying: "My dearest Olivia, you made all of our lives so much better. Your impact was incredible. I love you so much. We will see you down the road and we will all be together again. Yours from the moment I saw you and forever! Your Danny, your John!"
Musical rom-com "Grease" became America's highest-grossing movie of the 20th century. The film had a budget of $6 million given by Paramount CEO Barry Diller, who dismissed its potential to become a hit.
However, in a twisted turn of events, the much-loved blockbuster movie made a staggering impression by raking in over $300 million at the box office.
Olivia Newton-John and John Travolta dancing in a crowded high school gym in the movie, "Grease," in 1978. / Source: Getty Images
It turns out Travolta was the one who convinced Newton to play the role of the iconic Sandy. The singer-songwriter was 28 years old then and an already successful recording artist.
She hesitated to become part of the musical after producer Allan Carr hinted that she would be the perfect addition to the cast. Newton-John wrote about her reluctance in her autobiography, "Don't Stop Believin'," saying:
"I could not play a high school student at 28."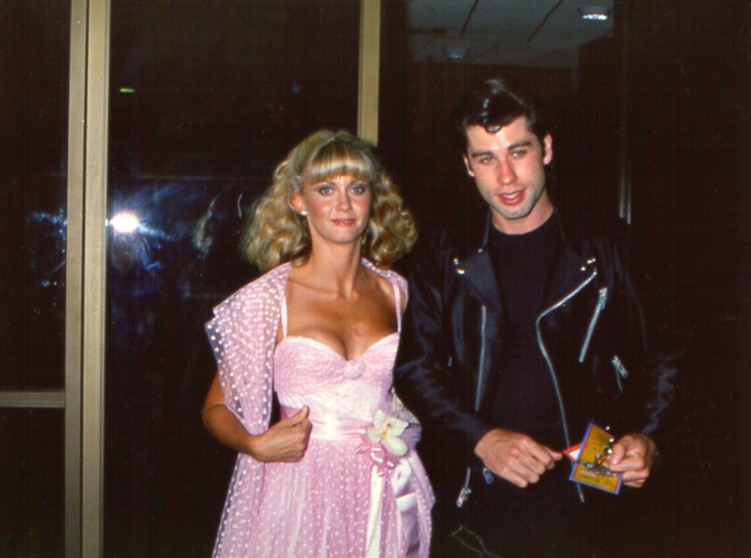 Olivia Newton-John and John Travolta attending the premiere of the musical film "Grease," in 1978. / Source: Getty Images
In addition, Newton-John was unsure that she could do the American accent. Moreover, she wanted to focus on her music career.
Still, Carr became relentless in trying to persuade her and suggested he could change the role of Sandy to an Australian transfer student to make the offer appealing to Newton-John. Even so, he failed dismally at getting her on board.
As a last resort, Carr sent Travolta, who was 23 then, to go and talk to Newton-John, and she eventually caved in. Recalling her meeting with the "Hairspray" star, Newton-John said it was challenging to say no to him, and they became instant friends:
"I went outside to be greeted by those piercing blue eyes and the warmest smile on the planet. In person, John Travolta radiates pure joy and love. That day, he greeted me with a big hug like we were already lifelong friends. How could you say no to John Travolta?"
After that, they did a screen test to assess their on-screen chemistry, and before the duo even said anything, everyone could see that they fit like a pair of gloves for the roles of Danny and Sandy. "Everyone laughed because the scene was so palpable," Newton-John wrote.
Olivia Newton-John as Sandy Olsson and John Travolta as Danny Zuko singing "You're the One That I Want," in "Grease" on June 16, 1978. / Source: Getty Images
In proving it, the on-screen duo shared a passionate kiss off-script at the film's after-party. Co-star Didi Conn, who played Frenchie, revealed that Travolta and Newton-John's kiss was real:
"You see, for a moment; she's surprised and then she responds. It's juicy and it's great. They weren't acting in that moment; it was like he had his chance and he was going to take it. It was real. It really was."
Years after filming the movie together, the Aussie native and Travolta confirmed that there was sexual tension between them. "Yes, we liked each other, and there was an attraction," Newton-John admitted.
Meanwhile, Travolta stated in 2019: "I think you saw that in 'You're the One that I Want.' There's almost resolve of that tension right there."
In addition, there was also moral support between the pair as Newton-John revealed how loving and protective Travolta was of her. The entrepreneur recounted the bonfire scene from the movie where Danny acted weird towards Sandy in the company of his friends.
Newton-John explained that she did the first take for the scene, and Travolta walked right in front of the camera during her close-up and apologized to the director, Randal Kleiser. After that, he pulled her aside to explain himself:
"Liv, I did that on purpose because I don't want them to use that take. I know you can do better."
The "Grease" star said she received tremendous love and support from Travolta, and the feeling was mutual. "I would forever be grateful for his concern," she said.
The actors arrived at the red carpet event together to celebrate the premiere of "Grease," answering questions from reporters as they made their way past screaming fans. The two also shared a kiss at the Paramount Studios' after-party.
THE TRUTH ABOUT THEIR FRIENDSHIP
Newton-John later said the New Jersey native told her on set that it was "every guy's dream" to have her "as their girlfriend." But she teased: "I don't know about every guy."
The "I Love You, I Honestly I Love You" singer shared though she and Travolta had undeniable chemistry, they would have never dated because they were involved with other people at the time. Newton-John added they both had a loyalty streak and that after the film, life went on as per usual:
"The truth is it never went beyond friendship with John despite the fact that the fans wanted (badly) for us to become a couple in real life."
She recalled in her memoir that she asked Travolta about it, and he echoed the same sentiments as her, saying they both had partners and were respectful towards them, and that was it. But the pair had feelings for each other.
"It almost happened between us a few times, but it didn't. Sometimes life offers you the wrong timing. We had to leave it as dear friends."
Asked by fans whether there was sexual tension between them during a Q&A session, Travolta firmly answered, "Yes." Meanwhile, Newton-John shared on the "Mamma Mia" "No Filter" podcast in 2018 that it would have been a disaster if she and Travolta acted on their feelings or had a fallout.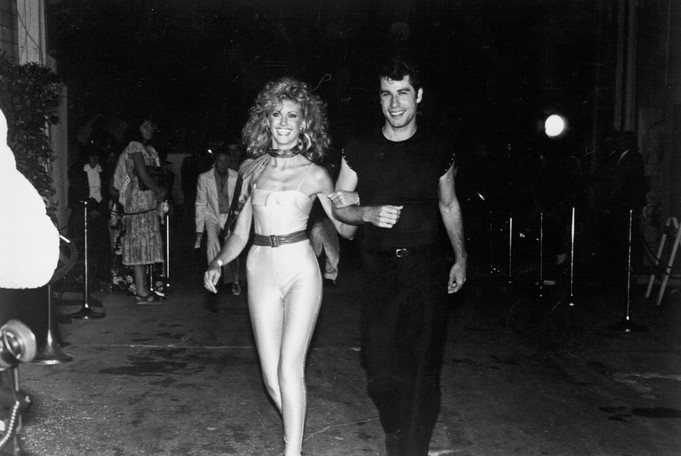 Olivia Newton-John and John Travolta attending the premiere of "Grease," in 1978. / Source: Getty Images
While she was involved with another man, Travolta had lost his girlfriend, actress Diana Hyland, right before filming "Grease." She had been diagnosed with breast cancer which sadly took her life at age 41.
Hyland had had a mastectomy two years before her death, and her then-boyfriend revealed to People in 1977 that "she didn't know she was going to die for sure until two weeks before."
In the days leading up to her passing, Travolta went east to film "Saturday Night," and Hyland remained in Los Angeles to wrap filming four of the first episodes of the sitcom "Eight Is Enough."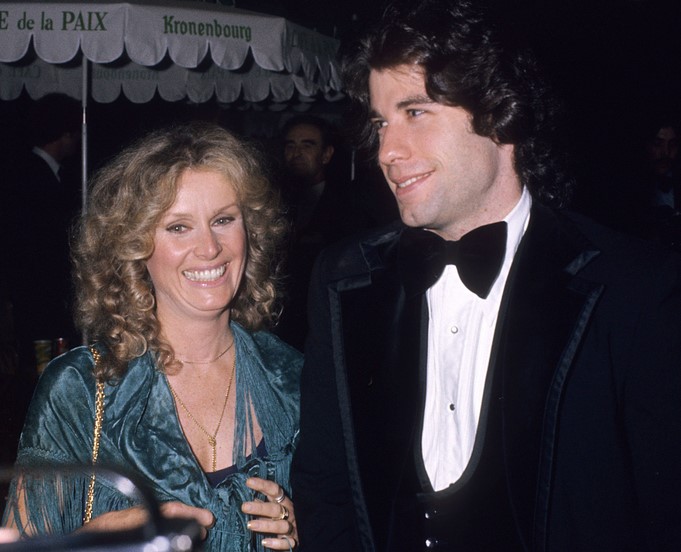 John Travolta and his girlfriend actress Diana Hyland photographed on December 8, 1976 in Los Angeles, California. / Source: Getty Images
The couple talked on the phone for hours every night, and the "Pulp Fiction" star returned with Hyland's death imminent. The day before she died, the lovebirds walked in the garden together.
Hyland passed away on March 27, 1977, in Travolta's arms. "I felt the breath go out of her," the A-lister told People at the time. What kept him going following the tragedy were the ministrations of an "auditor" of Scientology, John's para-psychiatric faith, and his girlfriend's words:
"I'm going now, but you are going to have this work."
His co-star, Newton-John, could tell there was immense pain in his eyes. She stated, "he remained sweet, open, very sincere, and vulnerable." Notably, the pair continued to be close friends over the years.
TRAVOLTA & NEWTON-JOHN'S ENDLESS RED-CARPET APPEARANCES
The two often appeared at red-carpet events, hugging and posing together. Newton-John and Travolta reunited at the G'Day USA Australia black-tie gala in 2008.
The event took place at the Hollywood Highland Grand Ballroom in Hollywood, California. Travolta and Newton-John posed together as he kissed her on her head.
Moreover, Newton-John supported the father of three when he lost his beloved wife, actress Kelly Preston, to breast cancer in July 2020. The couple had kept the heartbreaking news under wraps. Newton-John described Preston as "a beautiful human."
Actress Kelly Preston with her husband John Travolta and Olivia Newton-John during G'Day LA: Australia Week 2006 – Penfolds Icon Gala Dinner – Red Carpet. / Source: Getty Images
The Grammy Award winner has advocated for health awareness since she herself was first diagnosed with breast cancer in 1992. She had been battling the disease for the third time since September 2018.
The following year, there were rumors that Newton-John was nearing death. But she swiftly shut down the speculations by posting a video on Twitter saying, "rumors of my death have been greatly exaggerated."
When she opened up about her third health scare, Newton-John admitted that there had been moments where fear got to her. However, she avoided thinking negatively about the situation, adding her husband was there for support. In addition, Travolta also supported her in her battle with cancer.
THEIR COLLABORATION
The continuous backing for one another has led to a music collaboration between the former "Grease" stars. In December 2012, Newton-John and Travolta released their song, "I Think You Might Like It," on online platforms, including iTunes. They also shot a music video together.
In December 2019, the fan-favorite dynamic duo appeared side by side, holding hands in their original costumes at one of the meet-and-greet concerts.
Newton-John wore a yellow and white outfit while Travolta donned an all-black attire, after more than forty years since the movie came out in 1978. She captioned the post:
"First time in costume since we made the movie! So excited!!"
The reunion was held at the Coral Sky Amphitheater in West Palm Beach, Florida, at the first-ever "Meet 'n Grease" sing-along. Newton-John and Travolta wore other signature looks from the iconic film, coordinating in all-black looks. She wore skin-tight leather pants with a leather jacket while he sported his famous "greaser" hairstyle in an all-black outfit.