If you're anything like me, you LOVE sweet potatoes.
I've been making this delicious dish for years, which is why it came as a huge surprise to me when I learned that I had been making it wrong this whole time!
A recipe is going viral this week for Hasselback Maple Pecan Sweet Potatoes, and it's sure to make your mouth water!
This recipe is very simple to carry out, as it only takes five to ten minutes of prep and 45 minutes total to make.
Here are the ingredients that you need:
2 medium sweet potatoes
1 tbsp. vegetable oil
Salt & pepper to taste
2 tbsp. melted butter
1 tsp. ground cinnamon
¼ cup chopped pecans
¼ cup maple syrup
½ tsp. pure vanilla extract
½ tsp. kosher salt
To begin, set your oven to 425 degrees and then slice your sweet potato every quarter inch.
Make sure that you do not go all the way through and instead only cut down about three-fourths of the way.
Once you have done this, brush your sweet potatoes with the veggie oil and season with salt & pepper before putting the potatoes on a pan and bake for 30 to 40 minutes.
After this time passes, increase your oven's temperature to 450 degrees.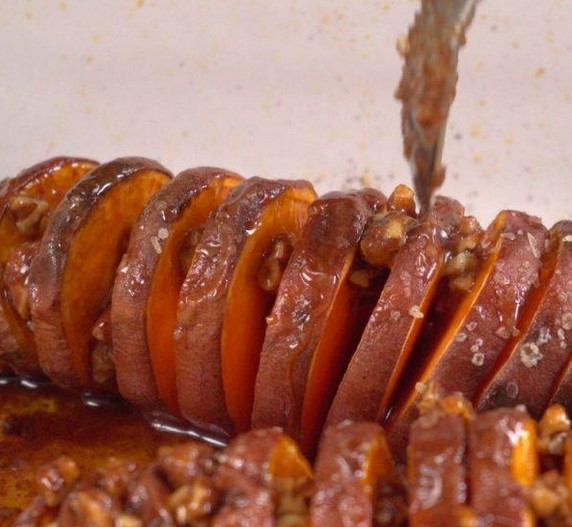 Place whatever toppings you use on the sweet potatoes and bake them from eight to ten minutes.
Finally, remove the potatoes from the oven, and enjoy!
This will definitely change the way you make sweet potatoes forevermore!
Video: