Seeing 13 truck drivers parked under a bridge and blocking traffic on the highway going in both directions is definitely unusual. But, that's exactly what fellow drivers encountered in Michigan. As if the sight wasn't bizarre enough, the reason why they were doing it left onlookers even more stunned.




Michigan State Police Lt. Michael Shaw found himself in need of the public's help in the wee hours of a Tuesday morning. Luckily, he'd get exactly what he needed from a group of selfless individuals. Now, the image of the 13 truck drivers is leaving many speechless.
After police in Detroit received a call that there was a man threatening to kill himself by jumping off an overpass above Interstate 696, several local law enforcement agencies rushed to the scene with negotiators. Then, the police came up with an unexpected plan to safeguard against the worst-case scenario, according to CBS News. The trucks created a "safety net" under the underpass.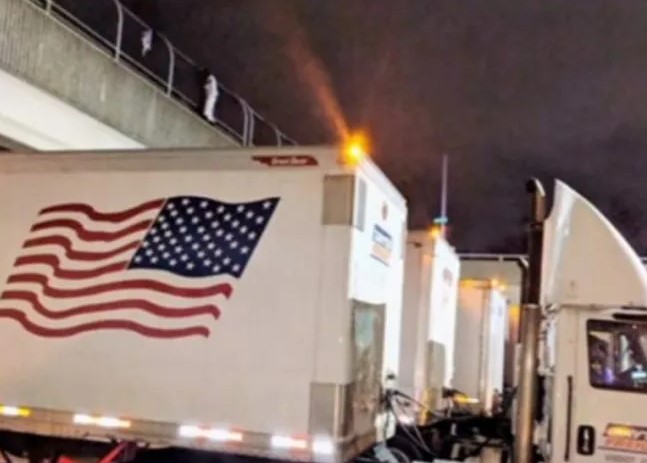 When officers arrived on the scene, they calmly talked to the man as others took to the highway, flagging down truck drivers and organizing them into a row beneath the bridge, in order to shorten the distance that the man would fall if he were to jump, ABC News reported. Lt. Shaw said the trucks got into position, packed tightly together, "to make sure if [the man] moved anywhere in that overpass, there was a semi there." Later, MSP Metro Detroit took to Twitter to share an image of the incredible effort.




"This photo does show the work troopers and local officers do to serve the public. But also in that photo is a man struggling with the decision to take his own life. Please remember help is available through the National Suicide Prevention Lifeline at 1-800-273-8255," they wrote alongside the image. "You can also call a loved one, member of the clergy or 911. There are so many people that can help you make the choice to get help and live! It is our hope to never see another photo like this again," they later added.
"We always want to make sure that people realize there are so many other options," Lt. Shaw said of the post. And, they should see from the image that others, even complete strangers, do care. "There's 13 truck drivers that didn't even know this guy and were willing to slide underneath that overpass to help him," Shaw added.
Shockingly, the effort was not the first time for police, Shaw explained. And, showing the kind of people truck drivers are, he added, "We've never, ever had a truck driver turn us down." This is no small task either. In this particular case, the truckers were there for many hours overnight.
"First, the truckers fell into line across the eastbound lanes of the highway. Then Michigan State Police closed the westbound lanes, as well, as more semi trucks arrived," CBS News reported. "In the end, a row of 13 big-rig truck drivers remained in place under the overpass for several hours until the situation was safely defused and the man was escorted by police to a nearby hospital."




Lt. Shaw said the man eventually told officers that he was having issues with his family. After about four hours, police were able to get the man off the ledge safely. As most of America was sleeping, an understated act of heroism was taking place and a life was saved as our truck drivers proved that they do so much more than clock miles across the country.
If you or someone you know is feeling depressed or suicidal, there is always help. When you struggle to believe that, remember this photo. The thirteen truck drivers who patiently waited for four hours are proof that there are always people out there who care, even when it doesn't feel like anyone does. There's always someone willing to catch you, literally. All you have to do is ask for help.