When an elderly lady had lost all hope of seeing a visitor walk through the nursing home's gate to meet her, she was surprised with something unexpected. The woman wasn't prepared for what happened that day.






As people grow old, many of them end up in nursing homes for various reasons. Some children leave their parents in nursing facilities because they can't look after them anymore, while others unwillingly have to trust a nursing home to care for their parents.
Having no one around you during the last few years of your life can be traumatizing for many people. Feelings of loneliness can build up, affecting their mental wellbeing. Today's story also revolves around a woman who had been living in a nursing home for years when life surprised her with something unexpected.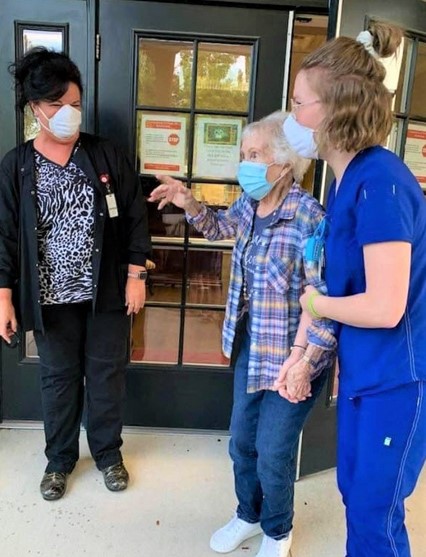 CHEERING FROM THE WINDOW
In 2019, an elderly lady moved into The Carlyle House in Kettering, Ohio, not knowing how long she would stay there. The nursing home staff and other residents welcomed her with open arms.
At that time, no one knew that the lady was a huge soccer fan. Two years later, Kettering Fairmont High School's cheerleaders noticed the woman watching the school's soccer game from her window.






The cheerleaders waved at her during every game while she cheered for the Firebirds' team. They felt happy knowing someone else was also cheering for their team from a distance.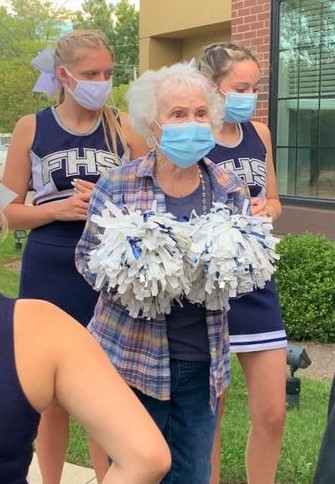 THE TRUTH
Looking at the elderly lady with a head full of white hair, it seemed like she was a happy woman. However, the cheerleaders later discovered that she was a lonely lady who only talked about the soccer game she watched from her window. She often told other residents how she cheered for the Firebirds.
In 2016, An elderly couple living in Rome was heard crying by their neighbors, who immediately called the police for help.
After learning about the elderly lady, the cheerleaders thought it would be an excellent idea to visit her. When they asked the staff members for permission, they allowed the cheerleaders to meet the woman in the parking lot.
THE VISITORS
Excited, the staff members told the old lady that she had visitors. At first, she couldn't believe it because no one had ever visited her. An outsider had arrived at the nursing home to meet her for the first time in two years.
Not knowing who was waiting to see her, the elderly lady entered the nursing home's parking lot with a staff member by her side. Seeing the visitors made her smile from ear to ear.
The girls dressed in blue cheerleading jerseys she saw from her window were now standing in front of her. The older woman was more than excited to meet the high school girls.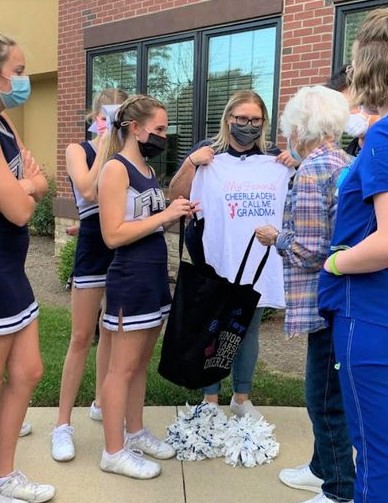 GOODBYE GRANDMA
After all the cheerleaders greeted the woman, they presented her with gifts. She was delighted to receive a cowbell, a pair of pom-poms, and a white t-shirt that said, "My favorite cheerleaders call me Grandma."
At the end of their brief meeting, the cheerleaders said they would visit their "Grandma" again and promised to wave at her during every soccer game.
While the cheerleaders helped this elderly woman battle loneliness in 2021, people in Italy called the police after hearing their aged neighbors cry. Scroll down to read what happened next.






THE ELDERLY COUPLE
In 2016, an elderly couple living in Rome was heard crying by their neighbors, who immediately called the police for help. When the officers arrived at their house, they discovered something unexpected.
No one had broken into the couple's house or hurt them. Eighty-four-year-old Jole and 94-year-old Michele said they were crying because they felt lonely.
No one had visited them in a long time, and watching the news about what was happening in the world had saddened them. The police team posted about the couple on Facebook, saying:
"Sometimes the loneliness melts into tears. Sometimes it's like a summer storm. It comes suddenly and overtakes one."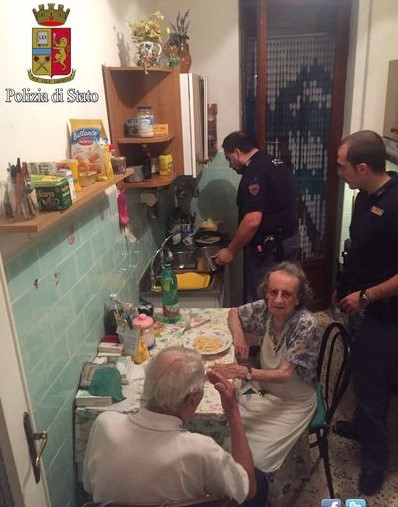 ASKING FOR PERMISSION
The post on the Italian police's Facebook page went viral after people read what the officers did to comfort the lonely couple.
Although Jole and Michele loved each other's company, they still felt lonely and sad because they needed to hang out with other people around them. Living alone had taken a toll on them, and comforting them was not an easy task for the police.
After hearing what the couple had to say, the police officers asked them for permission to enter their pantry. They came out of the kitchen a few minutes later with two plates of delicious cheesy pasta.
Although the police officers only added butter and cheese to boiled pasta, Jole and Michele were overjoyed to eat it because the officers mixed a special ingredient in their meal: humanity.
These stories of lonely elderly people teach us to be considerate and try to bring a smile to their faces. Having visitors pleases them and motivates them to enjoy their lives. Have you ever felt lonely? Did someone comfort you to help battle loneliness? We'd love to hear about your experience.